New appointments by Glion Institute of Higher Education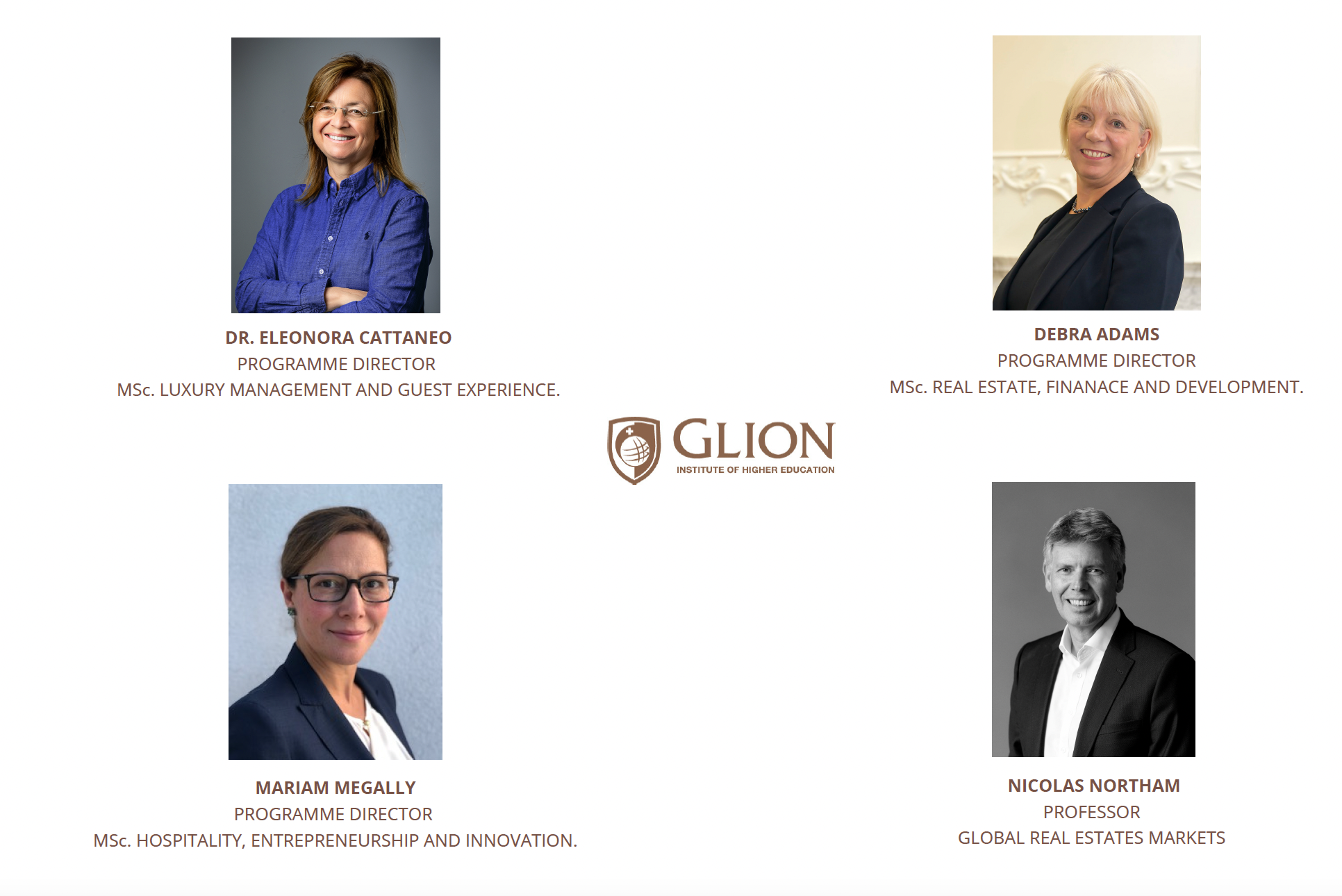 Glion Institute of Higher Education, a specialist hospitality and luxury management school with campuses in Switzerland and London, has announced significant Faculty appointments as the 2022-23 academic year gets underway.
Mariam Megally is the new Program Director for Glion's Master's in Hospitality, Entrepreneurship and Innovation. Based in Switzerland, Mariam brings a breadth of international business experience to the Master's degree focused on entrepreneurship skills. She began her career as a consultant with McKinsey & Co before entering the corporate food and beverage sector at Starbucks and Nestlé, a career path which culminated in her taking the role of Starbucks Global Strategic Innovation Director for Nestlé. Since 2012, Mariam has served as Strategy Professor for the Executive MBA at Solvay Brussels School in Vietnam. She is also a judge and mentor for the global start-up accelerator Mass Challenge where she provides mentoring for start-ups in food and sustainability.
Dr. Eleonora Cattaneo has also joined the Glion team as of October 1st as the Director for the Master's in Luxury Management and Guest Experience. She has been previously a professor for the Building Brand Equity class within the Master. Dr. Cattaneo has obtained a PhD in Marketing from the University of Pavia in Italy, an MBA from SDA Bocconi, and BA from the University of Bristol and has extensive industry experience in the field of marketing as a consultant and senior advisor for global brands and leading luxury hospitality groups. Her research focuses on rebranding, heritage branding and sustainable buying behaviour in the field of luxury. Prior to her position at Glion, she was Director of executive education at Swiss Education Group. She was also head of programme for the MA Luxury Brand Management at Regent's University and before that she was a faculty member at SDA Bocconi in Milan where she designed and led executive education and MBA programmes.
Meanwhile, Debra Adams, who has been a Consultant Lecturer at Glion since 2017, is now Program Director of the Master's in Real Estate, Finance and Development based at Glion's London campus. She has previously held positions at a number of hotel schools in the UK and Switzerland and is a specialist in hospitality finance training for finance professionals and operational heads of department in hotels, restaurants and leisure facilities. Debra is also a Trustee and Member of the National Supervisory Board at the Institute of Hospitality.
Nicholas Northam has also joined Glion London where he will teach Global Real Estates Markets on the Master's in Real Estate, Finance and Development. During his wide and varied career spanning over 40 years within the hospitality business, Nicholas has been General Manager of a number of Marriott Hotels and was Operations Director for Marriott in the UK. He additionally spent over a decade in asset management, most recently as the Executive Vice President for Interstate Hotels and Resorts, Europe's largest third-party management company and the international arm of Aimbridge Hospitality.
"Each of these appointments are strategically significant for Glion as we begin the new academic year," stated Dr. Michel Philippart, Managing Director of Glion Institute of Higher Education. "I am delighted to welcome them in support to the rising interest for our Master degrees' not just in hospitality but also in adjacent fields such as real estate, luxury guest experience, and entrepreneurship, which are now constituting for almost half of the career pathways pursued by our students."
About Glion Institute of Higher Education
Founded in 1962, Glion Institute of Higher Education is a Swiss institution offering bachelor's and master's degrees in hospitality, luxury and finance to an international student body across three campuses in Switzerland and London, UK.
Glion is ranked among the world's top five higher education institutions for hospitality and leisure management, and in the top three number for employer reputation since its entry in the ranking in 2018. (QS World University Rankings by Subject, 2022).
Part of Sommet Education, worldwide leader in hospitality education, Glion is accredited by the New England Commission of Higher Education (NECHE).
For more information, visit glion.edu
PRESS CONTACT