18 Gault & Millau points for the "Stéphane Décotterd" gastronomic restaurant in the heart of Glion Institute of Higher Education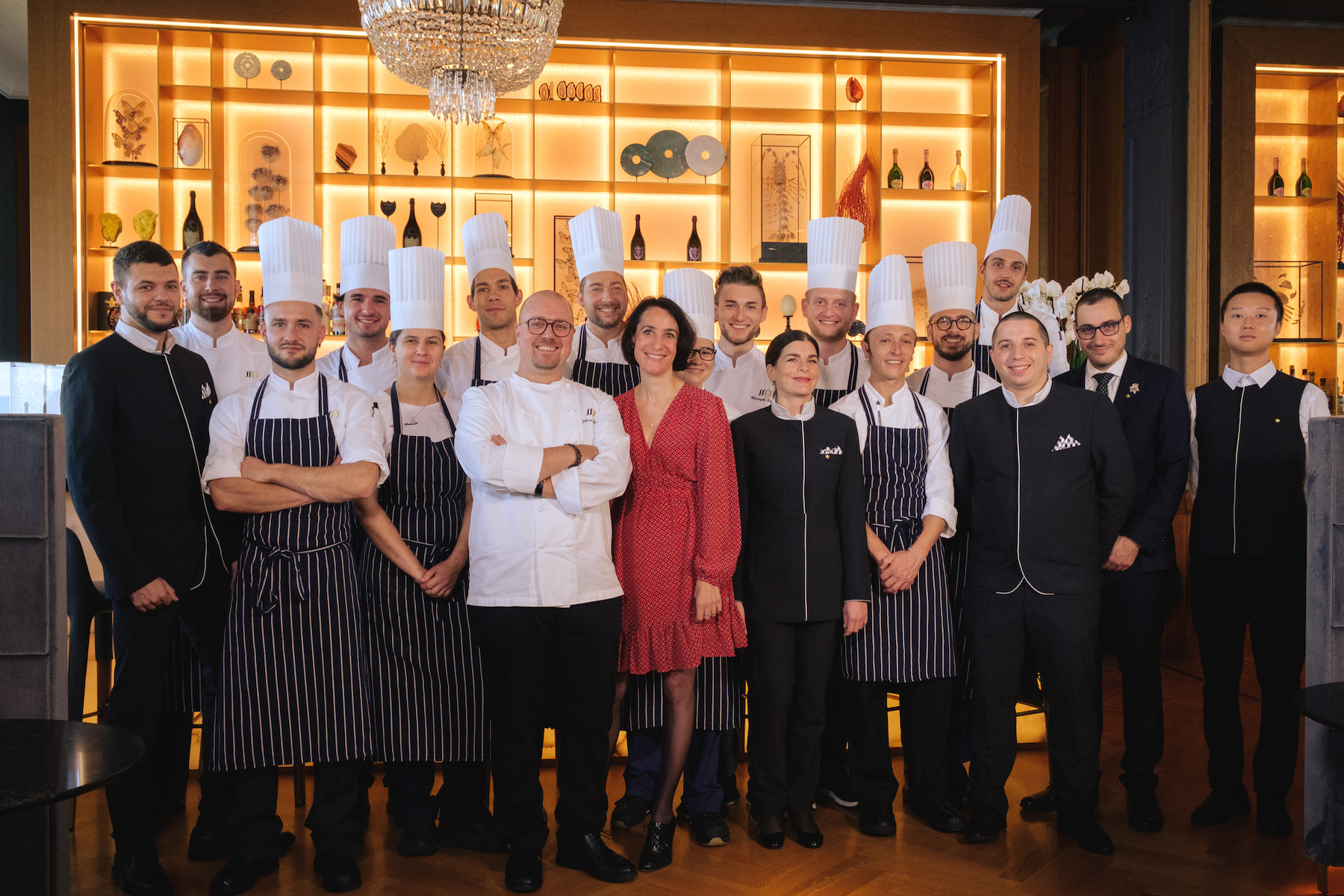 Glion (Switzerland), 7 November 2022 – The Swiss Gault &Millau guide once again awards 18 points to Stéphane Décotterd for his gastronomic restaurant located since September 2020 in the heart of Glion Institute of Higher Education.
Opened in September 2020 in the heart of Glion Institute of Higher Education, "Maison Décotterd" comprises three culinary spaces – the gastronomic restaurant, the bistro and the lounge bar – which together form a true gastronomic destination in a spectacular setting. For the 11th consecutive time, Gault & Millau once again awarded Stéphane Décotterd 18 points for his gastronomic restaurant.
Stéphane Décotterd shared on this occasion: "I associate my team with this magnificent distinction; with this beautiful recognition of the constancy of our commitment as well as the quest for excellence pursued by each of us."
The chef, who has been practicing exclusively local produce-based cuisine for several years, along with his wife, a former sommelier and restaurant manager, jointly manage this establishment which is a member of Relais et Châteaux and has been awarded a Michelin star. Salmon from Graübunden with masterwort, chicory given a tangy taste by Granny Smith apples, Lake Maggiore pikeperch with Vulliens Szechuan pepper, Pinot nor juice and red onions, Saddle of Deer from the Jura grilled with juniper wood, Confit Shoulder Toast Tartlet, Pan-fried wild mushrooms and fingerling potatoes emulsion, along with desserts such as Fellenberg Plums and Meadowsweet as well as Shortbread biscuit and candied prunes: these dishes drawn from the tasting menu testify to the demanding culinary philosophy promoted by the Chef.
This approach embodies an unmistakable signature and an eco-responsible vision resolutely oriented towards promoting producers and high-quality produce, of which Stéphane Décotterd is also delighted to raise awareness among the international cohorts of first semester Bachelor students at Glion through a four-week internship they undertake at Maison Décotterd – alternating between the gourmet restaurant and its kitchen, the bistro and the bar.
This influence extends far beyond the borders of Switzerland, notably through the Chef's role as vice-delegate for Switzerland and as a member of the World Culinary Council, which is committed to protecting and promoting the richness and diversity of the world's culinary and hotel traditions and to ensuring their continuity.
About Stéphane Décotterd
Stéphane Décotterd was born in Billens in the canton of Fribourg and grew up in Corseaux and La Tour-de-Peilz near Vevey. He considered becoming a chef from the age of ten and started his apprenticeship right after school at "Le Petit" restaurant in St-Légier. After working in a few other restaurants, including Le Pont de Brent, and spending two years in Quebec, Canada, he returned to Switzerland in 2005 and took up professional residence at Le Pont de Brent. In 2008, he won the "Cuisinier d'Or" competition, the award for the best Swiss chef. In 2009, he was fifth in the world at the Bocuse d'Or, an artistic cooking competition in Lyon (France). In 2011, Stéphane took the reins of the "Pont De Brent" with his wife Stéphanie. In 2012, the couple was awarded two stars in the Michelin Guide and an 18/20 Gault-Millau rating. In 2018, the Chef abandoned seafood, exotic fruit and other imported products to devote himself solely to eco-responsible cuisine that promotes local products and terroirs. In 2020, the Chef was awarded the "Ethical Cuisine Trophy" in London by the Relais & Châteaux association of which is also vice-delegate for Switzerland and a member of the World Culinary Council. That same year he also received the "Swiss Culinary Merit" award for his excellence and know-how in respecting Swiss culinary heritage produce. He is also a member of the "Académie Culinaire de France".
Maison Décotterd opened in September 2021 in the heart of Glion Institute of Higher Education, overlooking Montreux and the Vaud Riviera. Run by Chef Stéphane Décotterd and his wife Stéphanie Décotterd, winner of the 2019 Swiss Michelin Hospitality and Service Award, Maison Décotterd comprises two restaurants and a bar. The Stéphane Décotterd gourmet restaurant (18 Gault et Millau points – 1 Michelin star in 2022) offers a breathtaking view of Lake Geneva; the chic brasserie is named Bistro by Décotterd; and the Lounge Bar by Décotterd provides tasty dishes and a fine selection of wines by the glass. Both exceptional restaurants reflect Chef Stéphane Décotterd's vision of regional, eco-responsible and original cuisine. Maison Décotterd is a member of the Relais & Châteaux Association, thereby belonging to a global network of 580 unique hotels and 100 exceptional restaurants.
About Glion Institute of Higher Education: Link
Media contact: media@sommet-education.com