The Only Education Group with Two Higher Education Institutions Ranked Among the World's Top Four in Hospitality and Leisure Management and the World's Top Three for Employer Reputation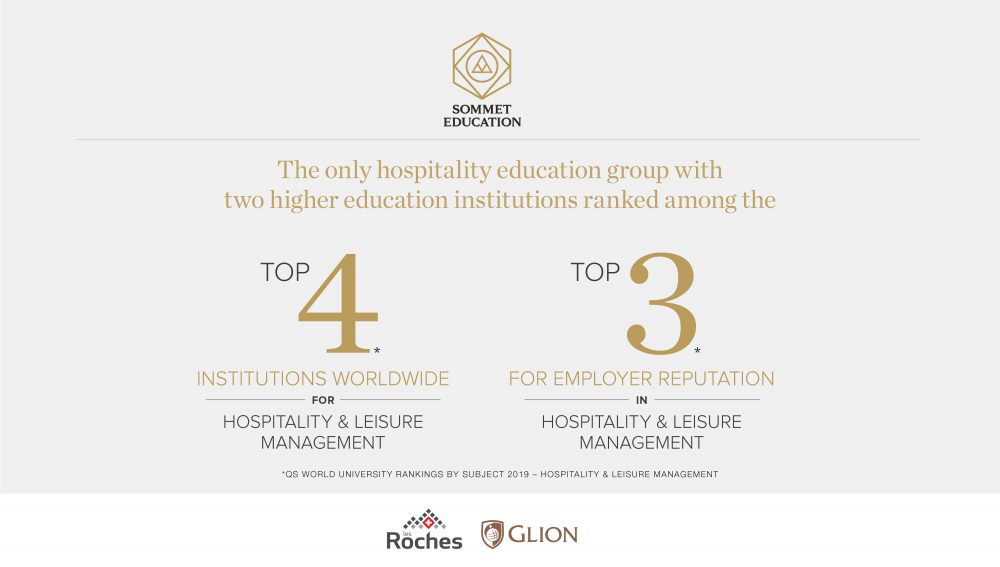 Sommet Education: The Only Education Group with Two Higher Education Institutions Ranked Among the World's Top Four in Hospitality and Leisure Management and the World's Top Three for Employer Reputation
Montreux (Switzerland), 4 March 2019—Sommet Education is the only hospitality education group with two higher education institutions ranked among the world's top four for hospitality education and the world's top three for employer reputation in hospitality and leisure management by QS World University Rankings by Subject 2019, released on 27 February.
The QS World University Rankings categorise the world's top universities by subject areas, covering 48 different subjects in 2019. The rankings aim to help prospective students identify the world's leading schools in their chosen field of study, extending the list of subjects each year in response to a high demand for subject-level comparisons.
In the Hospitality and Leisure Management category, the survey included two criteria: academic and employer rating, used to assess institutions' reputations among international scholars and industry leaders. In 2019, the QS World University Rankings draw on survey responses from 83,000 academics and 42,000 responses from graduate employers worldwide.
"We welcome the latest results from QS World University Rankings and are pleased to see both Les Roches and Glion hospitality management schools represented in the top three institutions for employer reputation as well as ranked among the world's top four for hospitality education," said Benoît-Etienne Domenget, CEO of Sommet Education. "We are also proud to see that both Glion and Les Roches rank higher this year compared to last year's already excellent results, further reflecting our commitment to delivering education of the highest standards. The prevalence of Swiss institutions among the top ten continues to demonstrate the relevance of Switzerland's learning-by-doing education model for both students and industry employers."
Sommet Education strives to prepare graduates for success in the hospitality industry of tomorrow through academic rigour, skills-based learning and a multicultural outlook. According to the same survey, Sommet Education is the only network with two institutions ranked among the world's top three hospitality institutions for employer reputation