Glion awards honorary doctorate degree to World's Best Sommelier Paolo Basso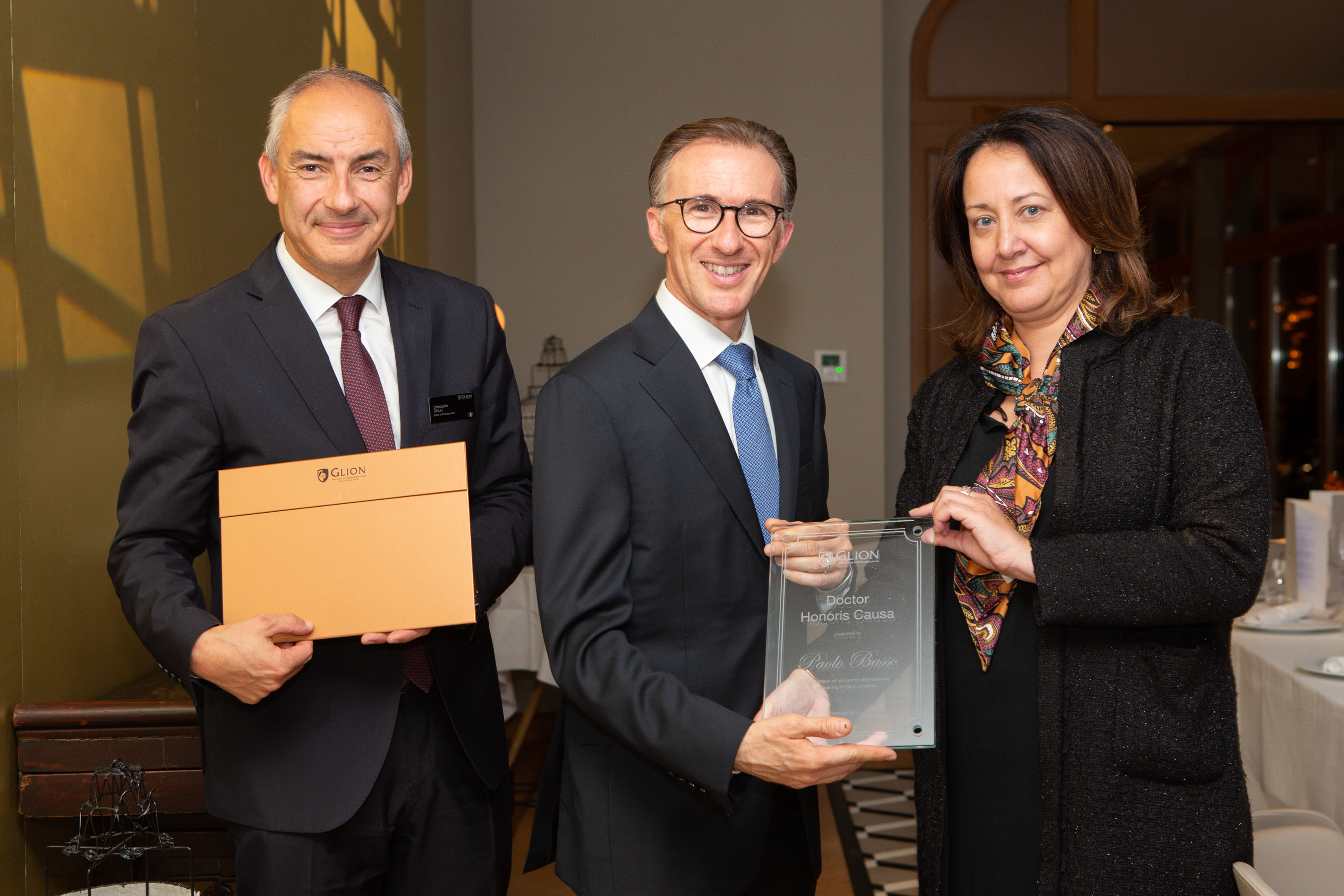 Montreux (Switzerland), 29 October 2018 —
Glion Institute of Higher Education, a world-leading hospitality management institution, has granted Swiss-Italian sommelier Mr Paolo Basso the degree of Doctor honoris causa in an awards ceremony held at the institution's flagship Glion campus on 24 October 2018. The honorary doctorate was awarded in recognition of Mr Basso's achievements in oenology and the wider field of hospitality, and his transmission of expertise and excellence to future generations.
Mr Paolo Basso, award-winning sommelier
A passion for oenology has taken Mr Basso from his native Lombardy, in Italy, to a global career as a renowned sommelier. His persistency and quest for perfection has earned him accolades such as Best Sommelier of Switzerland (1997), Best Sommelier of Europe (2010) and Best Sommelier of the World (2013).
Based in Switzerland, Mr Basso currently delivers the weeklong "Universe of Wine" course at Glion, which forms part of the mandatory practical arts curriculum for all first-semester bachelor's degree students. Topics covered in the course include wine-making processes, wine tasting and food pairing, understanding the value of wine, and business concepts such as investing in fine and rare wines.
At the worldwide level, Mr Basso also represents Glion as a global brand ambassador.
As an essential part of luxury hospitality, oenology is core to our practical arts curriculum. We are therefore delighted that Mr Basso is able to share his vast knowledge and experience with our students and the next generation of hospitality leaders," said Georgette Davey, Glion's Managing Director. "This is a wonderful opportunity for Glion students to benefit from Mr Basso's expertise and to learn by example. Mr Basso embodies key values that we strive to instil in our students, such as humility, passion and the drive for excellence."
In addition to teaching students at Glion, Mr Basso hosts a series of gourmet dinners open to the public at Le Bellevue, Glion's student-operated gastronomic restaurant. Featuring food and wine pairings selected by Mr Basso, the most recent dinner took place on 25 October 2018, with two more scheduled for 2018.
Useful information
Le Bellevue
Glion Institute of Higher Education
1823 Glion-sur-Montreux
Reservation

www.glion.edu/restaurants
T: +41 21 966 35 25
E: reservations.bellevue@glion.edu
Opening hours

Mon – Fri
12:00 – 14:30
19:00 – 23:30
About Glion Institute of Higher Education
Founded in 1962, Glion Institute of Higher Education is a private Swiss institution offering bachelor's and master's degrees in hospitality, luxury and event management to an international student body across three campuses in Switzerland and London, UK. Glion also offers a dual-degree MBA and MSc programme in partnership with Grenoble Ecole de Management.
Part of Sommet Education, Glion is accredited by the New England Commission of Higher Education (formerly the Commission on Institutions of Higher Education of the New England Association of Schools and Colleges, Inc.). Glion is ranked number five of the world's top institutions for hospitality and leisure management and number one worldwide for employer reputation (QS World University Rankings by Subject 2018).