Two Michelin-starred chef Stéphane Décotterd sets up his restaurant and his entire team within Glion Institute of Higher Education at the magnificent former Bellevue Hotel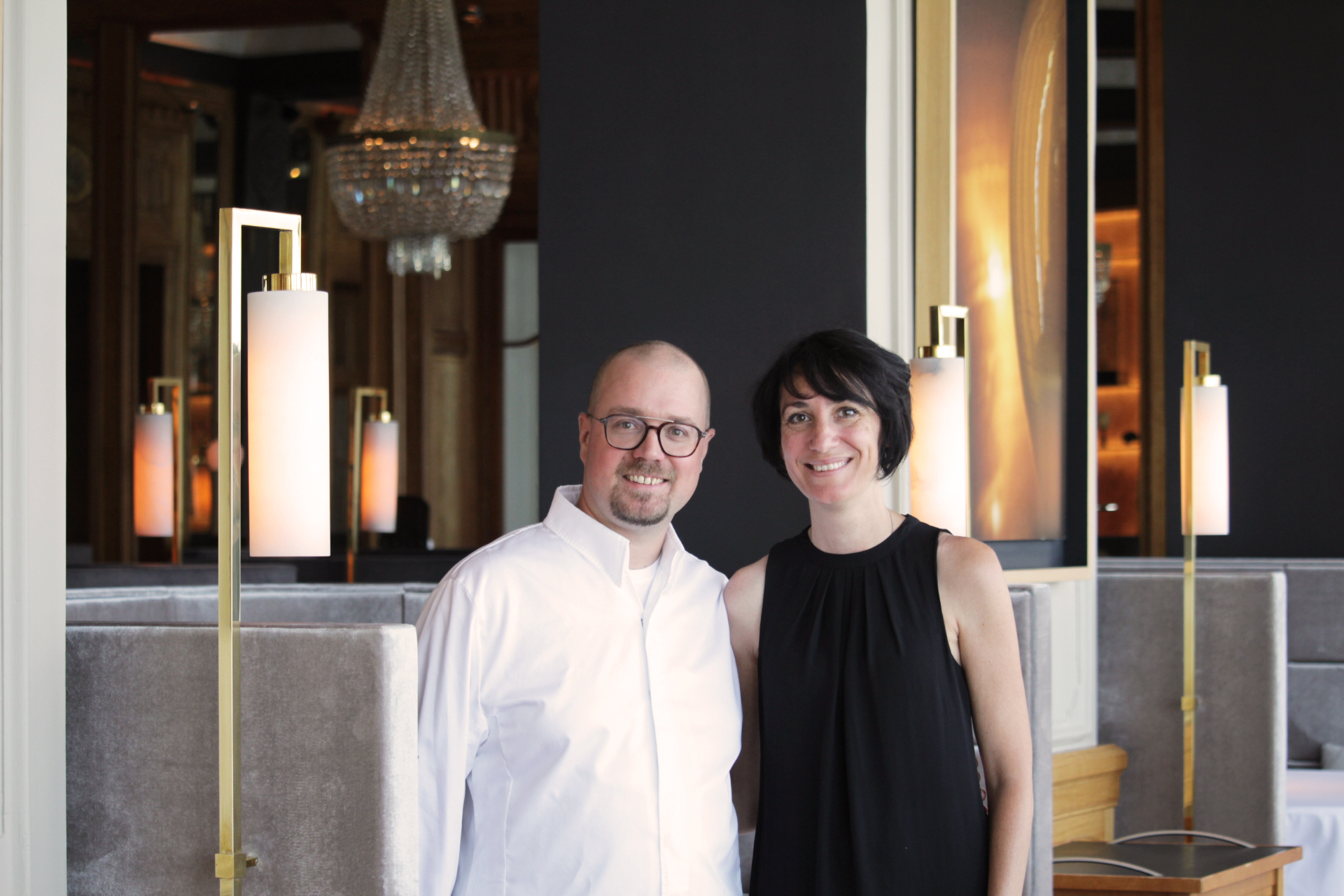 Montreux, Thursday 22 July 2021 – After ten happy years at "the Pont de Brent", punctuated by numerous distinctions rewarding a resolutely modern, local and thoughtful approach to gastronomy, Stéphane and Stéphanie Décotterd, together with Glion Institute of Higher Education, are delighted to announce the creation of two "Stéphane Décotterd" restaurants located in the former Bellevue Hotel in Glion.
Overlooking Montreux and the Vaud Riviera, the 19th century building has been the center of Glion, the prestigious hospitality management school, since 1962. This unique setting will now host the gastronomic restaurant that has made the Décotterds famous, as well as a contemporary bistro. Both establishments will enjoy a spectacular view of Lake Geneva and the Alps.
The space of the gastronomic restaurant and its magnificent bar, listed as a historical monument, skillfully combine modernity, chic and the Belle Époque spirit. The adjacent bistro area will feature a resolutely contemporary tone.
Supported by both their own team and the Glion teams, Stéphane and Stéphanie Décotterd will continue their quest for excellence, offering a cuisine more local, inventive, and eco-responsible than ever, while distilling the finest regional produces. This approach will benefit both the gastronomic address and the bistro, enabling an even larger audience to savor exceptional food and the institution's students to be inspired by renowned experts.
As Stéphane Décotterd points out: "The heart of Swiss gourmet cuisine will beat even stronger! We are delighted to continue our mission to promote Switzerland's culinary heritage and to operate in a setting that will allow it to have even greater international influence, while remaining true to the magnificent and much-loved city of Montreux."
"We are honored to welcome Stéphane and Stéphanie Décotterd and their team to our institution. This is a unique opportunity for our students to learn, while meeting and exchanging with exceptional talents", says Fabien Fresnel, Chief Operating Officer, Sommet Education.
The two restaurants « Stéphane Décotterd » at Glion will open on September 23rd.
The last service at Le Pont de Brent will take place on August 28th 2021 in the evening, and the first service in the new restaurants will take place on September 23rd 2021. Bookings can already be made at: + 41 (0)21 964 52 30. Email : reservations.decotterd@glion.edu
About Stéphane and Stéphanie Décotterd
Stéphane Décotterd was born in Billens in the canton of Fribourg and grew up in Corseaux and La Tour-de-Peilz near Vevey. He began dreaming of becoming a chef from the age of 10, and upon graduating from high school started an apprenticeship at a restaurant in St-Légier called "Le Petit". After working in a few other restaurants, including "Le Pont de Brent", and living for two years in Quebec, Canada, he returned to Switzerland in 2005 to work alongside Gérard Rabaey at "Le Pont de Brent". In 2008, he won the title of the best Swiss chef in the national "Cuisinier d'Or" competition. In 2009, he was ranked fifth in the world at the Bocuse d'Or, an artistic cooking competition in Lyon (France). In 2011, Stéphane took the reins of "Le Pont De Brent" with his wife Stéphanie. In 2012, the couple was awarded 2** in the Michelin Guide and an 18/20 Gault-Millau rating, distinctions they have maintained ever since. In 2018, the chef abandoned seafood, exotic fruits, and other imported produce to devote himself solely to an eco-responsible cuisine highlighting local produce and terroirs. The chef is a member of the "Académie Culinaire de France" and was awarded the "Swiss Culinary Merit" in 2020 for his excellence and know-how with regards to Swiss culinary heritage produces.
About Glion Institute of Higher Education
Founded in 1962, Glion Institute of Higher Education is a Swiss institution offering bachelor's and master's degrees in hospitality, luxury and finance to an international student body across three campuses in Switzerland and London, UK. Glion ranks world's top three for higher education institutions in Hospitality Management and second in Employer Reputation (QS World University Rankings, 2021). Part of Sommet Education, Glion is accredited by the New England Commission of Higher Education (NECHE).
For more information, visit www.glion.edu
Media contacts:
Glion Institute of Higher Education_ Anouck Weiss _ media@sommet-education.com