École Ducasse and ALMA launch a joint Pastry Arts Diploma bringing together the best of French and Italian Pastry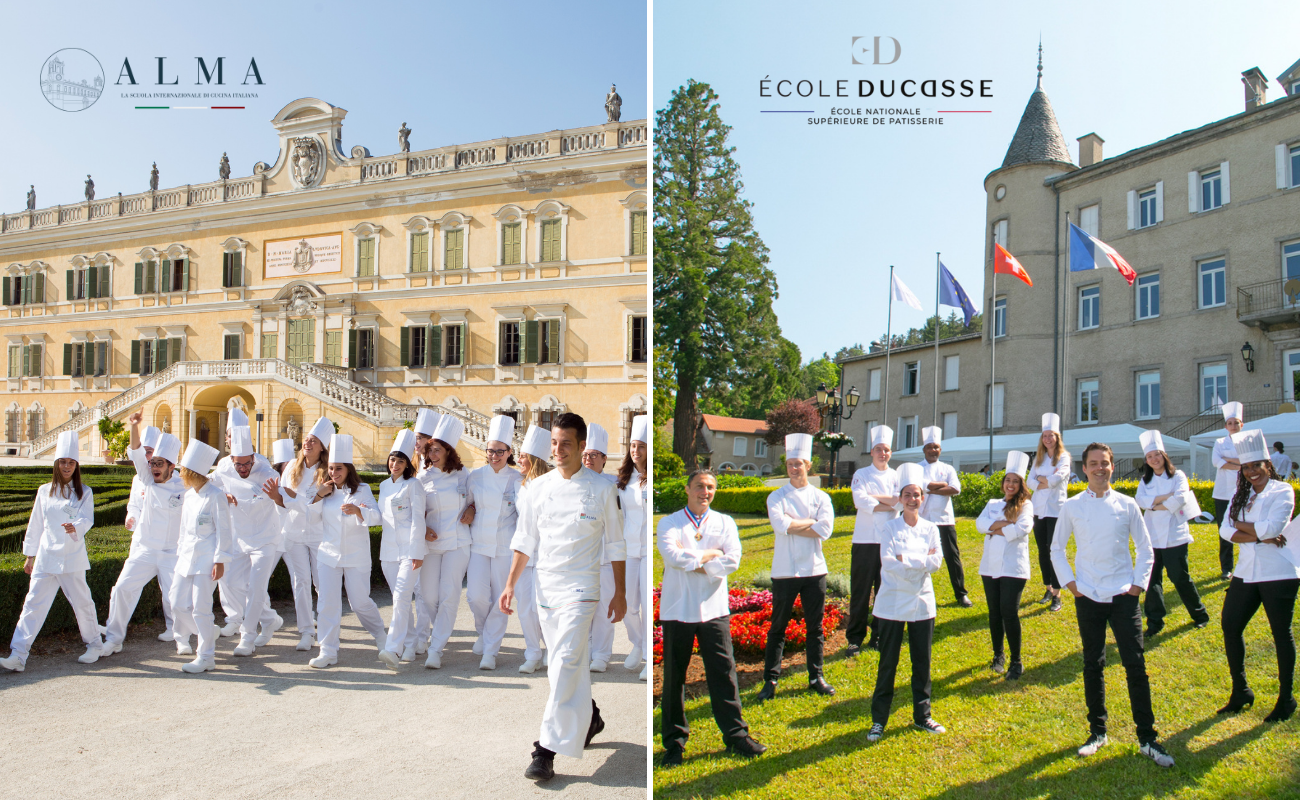 Yssingeaux/Colorno, Thursday 11th November 2021 – École Ducasse, through the École Nationale Supérieure de Patisserie, and ALMA – The School of Italian Culinary Arts, are launching a joint Pastry Arts Diploma, bringing together the best of French and Italian pastry.
Today, École Ducasse and ALMA are combining their expertise in pastry to offer a distinctive program to students who are eager to learn the iconic techniques of two most famous countries in the world when it comes to pastry.
The first intake of this unique 4-month program will start on March 7th 2022. The first two months of the diploma will be taught in Yssingeaux, at the École Nationale Supérieure de Patisserie, the French Pastry school part of the École Ducasse network, followed by 2 months delivered in ALMA, the Italian Culinary Arts School, focused on the Italian Food & Fine-dining Cuisine and the Italian Style in the Hospitality Business based in Colorno, in the countryside of Parma, UNESCO City of Gastronomy, in the heart of Food Valley . This unique course will offer a full immersion in the pastry world across two countries and well grant students with a joint diploma from the two internationally renowned institutions.
This joint Pastry Arts Diploma is an intensive skills program dealing with the technicalities of pastry arts in both countries and is designed specifically for students who want to explore the universe of top French and Italian pastry arts. Among many other topics, students will learn classics bread and viennoiserie, chocolate and confectionery, healthy pastries new trend, artistic masterpieces sugar, the Italian Gelato and the design of a restaurant's pastry menu.
Matteo Berti, ALMA Director of Education, points out "The students enrolling the joint Pastry Arts Diploma will have the unique opportunity to be trained by some of the best pastry chefs in both France and Italy. They will finish this 4-month program with extensive knowledge in French and Italian technics."
In both schools, students will learn in a small group settings, which provides personalized, interactive and efficient training. For a personalized and unique approach, 90 percent of skills acquisition is achieved through practical learning workshops, complemented by masterclasses taught by renowned Chefs. Students will also beneficiate from state of the art equipment to learn how to work in a professional environment.
Luc Debove, École Ducasse Executive Pastry Chef, commented: "I am delighted to collaborate with ALMA on the development of such a unique program; bringing together the best of the French and Italian savoir faire can only be a source of inspiration to all."
Discover more about the Pastry Arts Diploma
About École Ducasse
École Ducasse is a network of schools founded in 1999 by multi-starred chef Alain Ducasse, dedicated to the transmission of outstanding French expertise and excellence in culinary and pastry arts.
École Ducasse runs three schools in France – Paris Studio, Paris Campus and the École Nationale Supérieure de Pâtisserie – as well as international schools in the Philippines, Brazil, Thailand and India. All are united by a desire to share a passion for gastronomy with seasoned professionals as well as food enthusiasts, career changers and students. This broad portfolio of programs aims to meet all training needs: from short programs for experts or food enthusiasts to intensive two-, four-or six-month programs, to three-year undergraduate programs and bachelor's degree in culinary and pastry arts.
École Ducasse is part of Sommet Education, worldwide leader in hospitality education.
For more information: https://www.ecoleducasse.com/en
About ALMA
ALMA - The International School of Culinary Arts is recognized as the world's leading educational and training centre for the Italian food and beverage and hospitality sectors at an international level.
ALMA trains cooks, pastry chefs, bakery chefs, sommeliers, professional waiting staff, restaurant managers, pizza chefs, pasta chefs and gelato artisans. ALMA is based in the heart of the Food Valley, in the beautiful Ducal Palace of Colorno: a few kilometres from Parma, proclaimed a UNESCO Creative City of Gastronomy in 2015, in recognition of its heritage of PDO and PGI delicacies and culinary specialties.
The Courses and Masters by ALMA are exclusively professional in nature. The standard of teaching is upheld by a teaching staff composed of leading cooks and pastry chefs, established maître d's and master sommeliers, as well as the cream of Italian food connoisseurs and highly-qualified experts in nutrition, food hygiene, and the history of food and wine. Moreover, every week the team is joined by a visiting professor, including chefs with one or more Michelin stars, master pastry chefs and F&B managers from large hotel and catering establishments. Unique to ALMA are the tailored courses it runs in Italy and abroad, both for professional training and for corporate team-building activities, ensuring ongoing professional development. It is also outstanding in Italy in terms of the quality of its teaching facilities.
For more information: https://www.alma.scuolacucina.it/en/
Media contacts:
École Ducasse: Anouck Weiss, media@sommet-education.com
ALMA: Giacomo Bullo comunicazione@scuolacucina.it