Les Roches joins OceanSky Challenge, the first commercial airship project of the 21st Century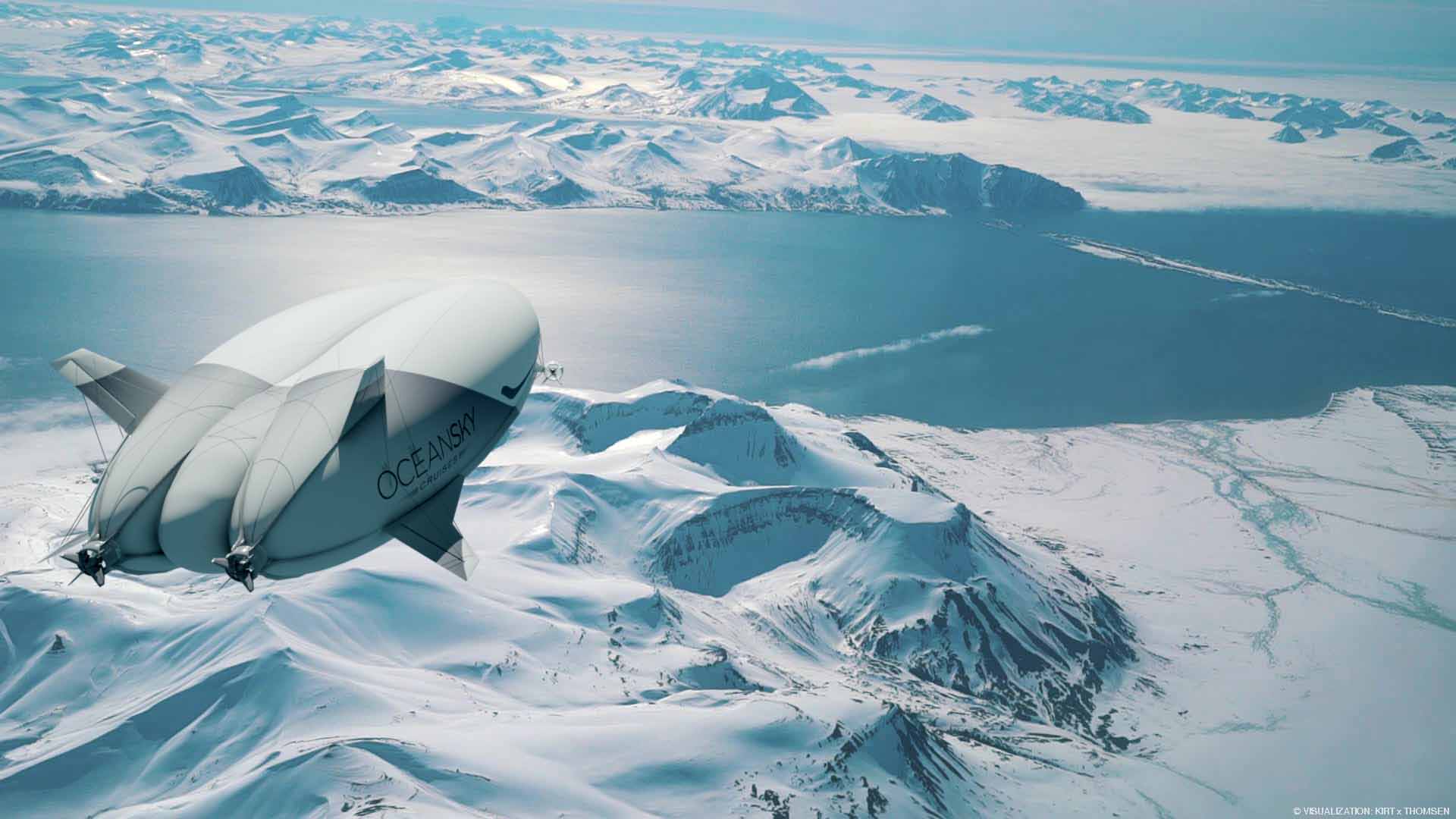 . Les Roches will collaborate on both the design of the passenger cabin and hospitality concepts for OceanSky Cruises.
. Carlos Díez de la Lastra, General Director of Les Roches Marbella, participated in Expo 2020 Dubai, together with other experts to analyze the future of airships in tourism while offering an alternative to dependence on fossil fuels.

. Conceived as a five-star hotel, the OceanSky Cruises dirigible airship aims to make history and become the first aircraft to land at the North Pole. It is scheduled to launch in 2024.
Marbella / Madrid, November 16th, 2021. The Managing Director of Les Roches in Marbella, considered one of the three best hospitality management schools in the world, participated in the round table titled "Leading the future of sustainable travel: The rebirth of airships", held at Expo 2020 Dubai. The session addressed the future of the next generation of airships, which hopes to provide clean and efficient aviation to cope with dependence on fossil fuels.
Carlos Díez de la Lastra shared his insights with a panel of experts made up of leading figures in technological innovation being applied to travel and luxury tourism. The panel included Eckhard Breuer, CEO of ZLT (Zeppelin Luftschifftechnik), Alan Weston, CEO of LTA Research and Exploration, Gennadiy Verba, President of Atlas LTA Advance Technology, Dereck Joubert, CEO of Great Plains Conservation and National Geographic Explorer in Residence, Sébastien Bougon, Founder and CEO of Flying Whales; Bruce Dickison, CEO of Cardiff Aviation (and leader of the Iron Maiden gang), and Robert Swan, founder of "2041" and activist for the protection of Antarctica and renewable energy.
Invited to the panel for its role as a globally leading school focused on educating managers for the hospitality sector, Les Roches is a privileged witness into how tourism evolves from its earliest stages. Thanks to the cross relationship it maintains with the luxury sector, which is also growing in sophistication, Les Roches' network of professors, professionals and students manifests both the need and desire, through an invigorating academic environment, to generate tourism-related projects that differentiate. One of the latest milestones in projects that will mark the future is the inclusion into the SPARK Innovation Sphere by Les Roches of the first commercial passenger airship carrier of the 21st century, OceanSky Cruises.
Les Roches took on the challenge posed by OceanSky Cruises due to the comprehensive nature of its innovative project. OceanSky's airship project is a combination of pioneering technology with a very high level of customer hospitality experience, and this is the area where Les Roches has provided its breadth of experience and knowledge. For Carlos Díez de la Lastra, OceanSky Cruises meets all the parameters required by luxury tourism today: "They offer technological innovation that allows tourists to visit regions of the world that are difficult to reach otherwise, and they respect the 'must' of sustainability principles, as well as the exclusivity of luxury tourism".
SPARK Innovation Sphere by Les Roches
Launched in late 2020, Spark is a global ecosystem designed to foster innovation (especially among hotel, tourism, luxury, and restaurant players), be part of the economic development strategy, and attract a growing number of startups.
Spark offers consulting, research, and project support services with advanced technological and digital resources. It also provides pre-incubation and incubation services for young companies with innovative ideas.
Today, Spark brings together an important network of experts both locally and internationally. More than 35 partner companies already work together in the center of Marbella on large-scale projects, including Airlander 10 (OceanSky Cruises), the new luxury airship that will fly to the North Pole in 2024.
Integrated into the academic program, Spark places innovation and entrepreneurship at the heart of the Les Roches way of life by inviting students, graduates, and industry partners to work together to develop and test new solutions in on-campus laboratories. Students are afforded the opportunity to work on real business consulting and academic challenges facing real business cases provided by Spark partners.
Carlos Díez de la Lastra, general director of Les Roches Marbella, states: "Our objective is to foster the entrepreneurial and innovative spirit of our students; therefore, part of our mission is to support technological projects and give them a space to grow on our campus. We are excited and we are passionate about being part of the future of the industry by working on the ideas that will change and evolve the world of travel and luxury. OceanSky Cruises is just one example of what awaits us."
About Les Roches
Les Roches is a Swiss institution focused on creating the innovative and entrepreneurial minds of tomorrow. Founded in 1954, Les Roches offers both undergraduate and graduate degrees in Hospitality and Tourism Management following the Swiss model of education. With three campuses across Switzerland, Spain, and China; a student body of more than 100 different nationalities, the institution provides students with a unique culturally diverse experience. As of 2021, Les Roches also has an academic alliance with the Indian School of Hospitality (ISH) with a partner campus in Gurugram (Delhi NCR).
Les Roches ranks world's four for higher education institutions in Hospitality Management, and three for Employer Reputation (QS World University Rankings, 2021). Part of Sommet Education, worldwide leader in hospitality education, Les Roches is accredited by the New England Commission of Higher Education (NECHE).
For more information, visit Les Roches.